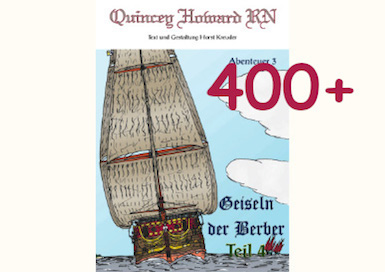 12.05.2020 Glatt genullt –
Glatte 400 Aufrufe konnte "Geiseln der Berber" Teil 4 beim heutigen Abruf der Statistik auf myComics.de verzeichnen. Gleichzeitig ist die aktuelle Fortsetzung auf Platz 4 der meist aufgerufenen Comics aufgerückt. Damit ist Teil 4 schon den zweiten Tag auf der Startseite von myComics zu sehen, nachdem er sich gestern Platz 5 sichern konnte. Mal sehen, was Teil 4 jetzt eher erreichen kann. Mit 500 Aufrufen den nächsten Hunderter oder Platz 1 der Hitliste?
05.12.2020 Exactly the next hundred –
Exactly 400 calls showed "Hostages of the Berbers" part 4 at today's call of the statistics on myComics.de. At the same time, the current sequel has moved up to 4th place among the most accessed comics. This means that Part 4 is already on the myComics homepage for the second day, after securing 5th place yesterday. Let's see which mark part 4 can reach sooner now. With 500 hits the next hundred or number 1 on the hit list?