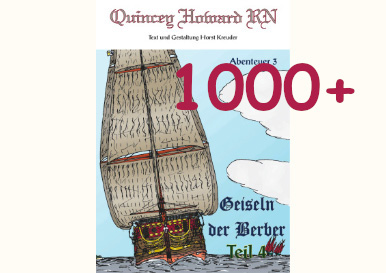 07.07.2020 Geschafft! –
Da hat "Geiseln der Berber" Teil 4 nochmal eine Kräftige Brise erwischt und hat 25 Aufrufe in einem Tag auf myComics.de gutgemacht. Damit steht Teil 4 nach knapp 12 Wochen online bei 1015 Aufrufen.
Teil 5 muß jetzt leider etwas warten, mehr zu den Gründen findet Ihr demnächst im Commodores Lo
07.07.2020 Part 4 made it! –
Wow "Geiseln der Berber / Mission Barbary Coast" part 4 got strong breeze again and made up for 25 hits in one day on myComics.de. Thus part 4 stands after scarcely 12 weeks online with 1015 calls.

Part 5 will have to wait a little bit, more about the reasons will be available soon in the Commodores Log
Translated using www.DeepL.com/Translator (free version)