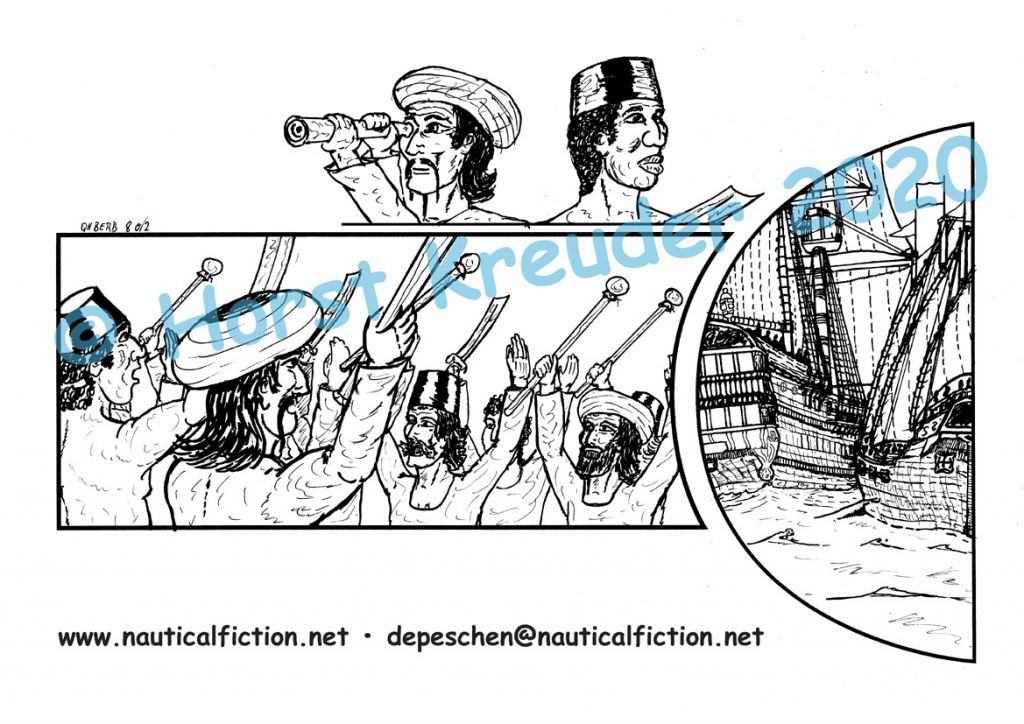 31.01.2020 • Einstieg in die neuen Seiten geschafft
Endlich ist die erste Teilseite für den Abschluss des Berberangriffs fertig.
Nach der Überarbeitung des Storyboards hatte ich mit Erkältungen, Weihnachtsferien und der Herausforderung des Bildaufbaus (zumindest für einen Wiedereinsteiger) zu kämpfen.
Aber Montag war die Seite endlich scanreif und gestern habe ich das, einschließlich einiger Nacharbeiten im Photoshop, erledigt.
Leider wird die zweite Teilseite nicht einfacher 🙁
01.31.2020 • Finally I started with the new pages
Finally I finished the first segment of starting page for completing the story line of the attack of the Barbary Coast Pirates.
After the revision of the Storyboard I struggled with cold, Christmas Holidays, an the complex composition of the panels – because I'm a little bit out of training.
But on monday the page was ready to scan and yesterday I did it – including some refining on the artwork in Photoshop.
Alas, working on the second part of the page will not be easier 🙁