02.13.2022 New item in the "Miscellaneous" gallery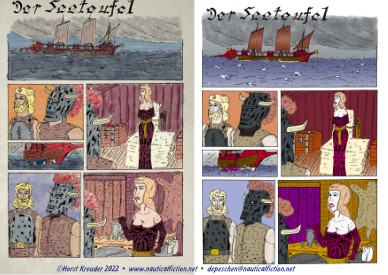 Unfortunately, there won't be much new content at NauticalFiction in the foreseeable future. I'm too busy with other projects, especially the liquidation of my comic collection.
But a little bit always goes 😉
Recently I have always had a few minutes left to try out a test page with the new brush and colour sets. I had ordered them as a supplement with my new image editor, Affinity-Photo.
I can't decide yet, after colouring a reference page in my previous technique, whether the watercolour effect makes the colouring more lively or more restless.
What do you think?