In the early 70's my fantasy first manifested itself in comic adventures. So in 1976 Quincey Howard, my first own naval hero, also appeared on deck in a comic.
At the end of 2016 I chose his adventures to create the asetting for a creative new creative beginning after a long break.
And I was successful. After the simple editing of his first two adventures with colour and layout, I was able to continue with the unfinished story "Geiseln der Berber – Mission Barbary Coast". So the fourth part contains my first new comic page after almost 30 years.
You can read the finished stories here on NauticalFiction.net "in one piece" as PDF. The stories in editing always appear, as I have two pages ready, as a follow-up in the portal myComics.de
Comics:
Full stories as PDF
Follow ups on myComics.de
Charakters:
Quincey Howard R.N.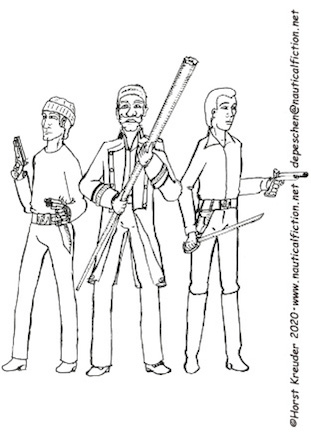 Follow the career of a young British naval officer at the end of the 18th century. With a convincingly passed lieutenant's examination, Quincey Howard directly gets the commission as the first lieutenant on a special mission. Under the flag of a continental ally, the ship-sloop Falcon got order to disrupt the maritime trade of revolutionary France and observe the enemy even before the British themselves enter the war.
Lord Wharfair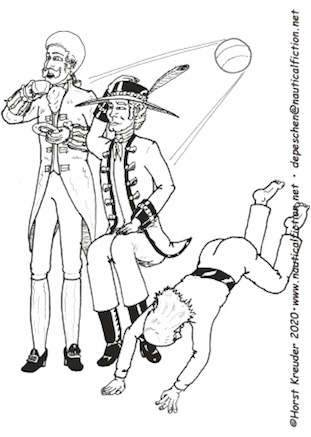 It started with a small head as scribble in a boring seminar. Such a classic smug, bored face of the British upper classes. Then the idea: What happens when such a man has to leave the protection of his club to make prey in the Caribbean with a letter of marque. An idea that took shape over the decades until the current concept of a mini-series, which I am preparing for with my work on Quincey Howard.