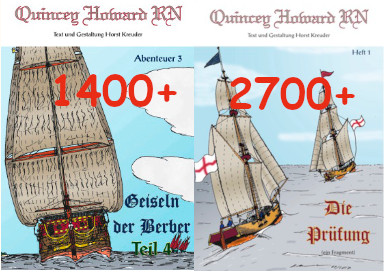 10.16.2020 New 100-call-marks reached with "Examination Day" and part 4 of the "Mission"
Ohne Unterstützung durch Erwähnen auf der Website, schaffen meine Posts bei myComics.de zwischen 0 und 3 Aufrufen pro Tag.
Aber wie heißt es so schön: "Kleinvieh macht auch Mist" 😉
So hat Teil 4 von "Geiseln der Berber / Mission Barbary Coast" jetzt mit 1418 Aufrufen die 1400 Aufrufe Marke Überschritten.
Der Dauerbrenner "Die Prüfung / Examination Day" hat mit 2706 Aufrufen die 2700er Marke geschafft.