Lagebericht 21.11.2019
Es wird mal wieder Zeit für einen kleinen Lagebericht. Der fällt leider recht kurz aus, weil es die letzten Wochen nicht so rund gelaufen ist. Immerhin hatte ich schon den Blueprint der oberen Seite 8 für die Reinzeichnung, in mein Zeichenbrett geklemmt. Dann ging mir durch den Kopf, daß ich nach über 40 Jahren Abstand, vielleicht doch nicht unvorbereitet weiter machen sollte. Schritt 1 war die Köpfe der Schlüsselakteure als Blueprint auszudrucken und zu tuschen, damit ich die später einigermaßen ähnlich hin bekomme. Dabei fiel mir auf, daß sich mein Stil seit damals verändert hat. Also habe ich von einer der alten Seiten auch nochmal ein Blueprint gemacht. Den tusche ich jetzt gerade, um wieder etwas Gefühl für meine alte Strichführung zu bekommen. Natürlich darf man sehen, daß ich mich seit damals entwickelt habe, aber es sollte nicht als Bruch in der Optik der Geschichte wirken.
Was das fertig stellen der nächsten Fortsetzung bis Weihnachten angeht, sind die Chancen jetzt leider etwas gesunken. Auf der anderen Seite habe ich in den letzten Monaten auch gesehen, was ich schon wieder schaffen kann, wenn es gut läuft. Also bleibt neugierig. 😉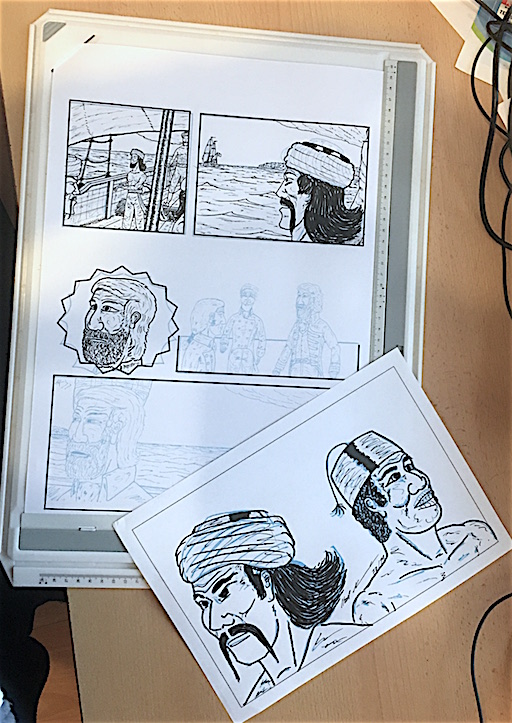 Report 2019.11.21
It's high time for a new report. Unfortunately there isn't much to tell because things didn't work well during the last weeks. At least I already fixed a blueprint of the upper page 8 on my drawing board. But then I thought that I should not continue without a little preparation because of the temporal distance of 40 years. My first step was to make some blueprints of frontline character's heads and ink them for training a similar appearance.
Doing this I recognized that my way of drawing changed a little bit during this 40 years. So I made another blueprint of a whole page from 1977. I'm just inking it to get a feeling for my characteristic way of drawing at that time. On one hand I can show my development over the years, on the over Hand I want to avoid a big clash in the visual appearance of the story.
This decreased the chance of publishing the next sequel till christmas a little bit. On the other hand I experienced how much I can already do again if things are going on well. So stay curious. 😉