08.28.2022 Done! The two-deck 64 guns ship as a vector graphic is now ready for the gallery.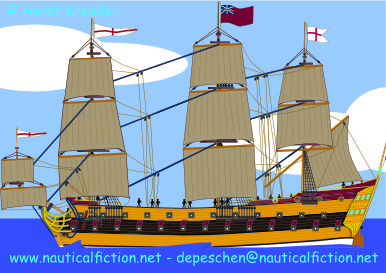 The work has once again shown that it is the last details that are especially holding up – But now I have finished it.
It was easy to continue working on the graphic in Affinty Designer, even though I had started it in Illustrator. And finishing the picture gave me precious experience with the new programme.
In the meantime, I remembered the story behind this picture. When I counted the number of ports and came up with 64, I noticed that the stern was extremely high for Quincey Howard's era. And then it struck me that it must be the eponymous ship from the as yet unpublished Quincey Howard comic "The End of the Revenger".
I guess I wanted to create an illustration of the Revenger, outside of the comic, at a time when, in more ways than one, I had no peace for a hand drawing.
But even for a work with computer support I probably was not calm enough at that time. And so the picture remained unfinished until it came back to me now, with this software changeover.
I haven't coloured digitally for a while now. So the next thing I'm going to do is colour one of the panels with the Revenger, in AF-Photo. As a reference image, so to say.
But I also have a number of other projects in mind for the AF Designer.
So that I stay fit for new comics – even if I have to wait until next year 🙁
So stay tuned.