01.31.2021 However, one more picture for the new gallery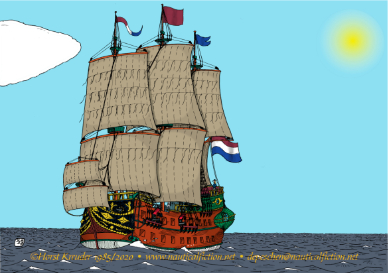 Actually, I had given up hope that it works this week with the 2nd image for the new gallery. But somehow I found some time to complete the picture. And that in spite of the fact that I was still experimenting with a some new techniques and had to look where the developers of Affinity-Photo had "hidden" some of the basic functions. But as I used to say – if you know what you want to do, you can find the right switch in a new program.
Testing Affinity-Photo was the main reason I picked up this black and white drawing from the 80s. A "Dutchman" from the late 17th century. The tests of how retouching and coloring – including first attempts with a pen tablet and trying out new techniques – can be handled in the new program have been quite positive.
Also the result is quite presentable and so I wish you a lot of fun with the new gallery image.