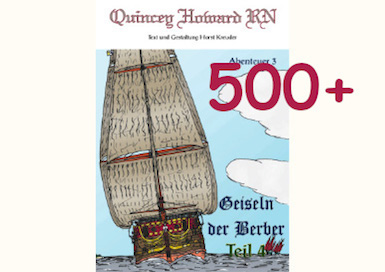 20.05.2020! – Die 500 sind voll!
Leider hatte ich keine Zeit, die gute Nachricht eher zu verkünden. Aber schon am Wochenende hat "Geiseln der Berber" Teil 4 die 500 Aufrufe auf myComics.de erreicht. Und das nach gut 4 Wochen online. 😀
Für Platz 1 in der Hitlist hat es noch nicht gereicht,. Aber nach einem spannenden Kopf an Kopf Rennen mit "CrowX" (Beide Comics haben an dem Tag mehrfach die Position gewechselt) hat sich Quincey Howard auf Platz etabliert.
05.20.2020 Done – 500 hits reached!
Unfortunately I didn't have time to announce the good news earlier. But just this weekend "Geiseln der Berber / Mission Barbary Coast" part 4 has reached the 500 hits on myComics.de. And that after a good 4 weeks online. 😀
For place 1 of the hitlist it was not enough yet. But after a thrilling neck-and-neck race with "CrowX" (both comics changed position several times that day) Quincey Howard has established himself on the second place.