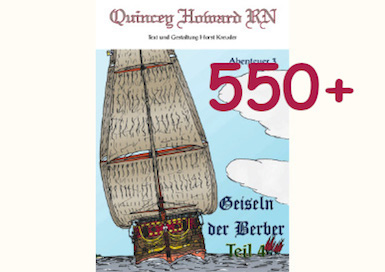 21.05.2020 Zwischenspurt bei "Teil 4" –
Mit 35 Aufrufen seit dem 500er-Post Gestern, hat "Geiseln der Berber" Teil 4 die nächste Marke von 550 Aufrufen geschafft. Exakt waren es gerade, beim Auslesen der Statistik, 552. In der Hit-Liste hält er sich damit weiter auf Platz 2.
05.214.2020 Part 4 made an short sprint –
With 35 additional hits since the 500 hits post yesterday, "Geiseln der Berber / Mission Barbary Coast" part 4 has reached the next mark of 550 hits. Exactly it was 552, when reading the statistics this morning. In the hit-list he keeps on being on place 2.