31.07.2020 Sondermeldung – Boom für die "Berber" –
Bevor ich mich wieder in die Arbeit an der neuen Website stürze muß ich doch das hier los werden.
Nachdem es bei den vier Teilen von "Geiseln der Berber", wie bei älteren Posts zu erwarten, mit 1 bis 4 Aufrufen pro Tagrecht ruhig lief, gab es Gestern einen überraschenden Run.
Teil 1 bis 3 hatten so um die 20 Aufrufe, der aktuelle Teil 4 sogar 35!
Hier noch die aktuellen Stände:
07.31.2020 Newsflash – Boom for the "Mission" –
Before I start working on the new website again I have to tell you this.
After it was quiet about the four parts of "Hostages of the Berbers" with 1 to 4 calls per day, as expected in older posts, there was a surprising run yesterday.
Parts 1 to 3 got about 20 calls, the current part 4 even 35!
Here are the current results: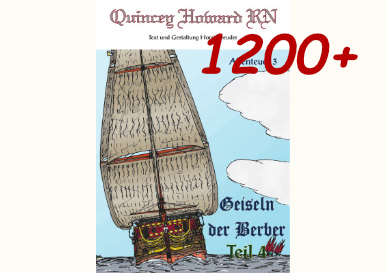 Ehe ich wieder an die Arbeit für die Überarbeitete Site gehe – Die beiden fertig aufbereiteten Geschichten mit "Quincey Howard könnt ihr hier auf als PDF lesen
Before I go back to work for the revised site – The two completely revised stories with "Quincey Howard you can read here as PDF